Reply
Topic Options
Mark Topic as New

Mark Topic as Read

Float this Topic for Current User

Bookmark

Subscribe
Original Post
Battlefield Briefing: Development Update, May 2022
[ Edited ]
May 2022 - last edited May 2022
---
If you'd like to join the discussion on this update, please go here.
---
Hey Folks -
Over the past few months, we've shared some of the key areas of focus for Battlefield™ 2042. Through our Core Feedback Loop, we've also shown off some of the work we've been doing on those areas. As we've been working to get Season 1 into your hands, it's been a while since we provided you with a better overview of where we are with that work, and the changes and improvements that you can expect to see coming to the game throughout the year.
To bring you in on what we've been working on I recently sat down with Senior Producer Ryan McArthur, and Creative Director for Battlefield 2042, Lars Gustavsson to talk about the improvements we're bringing to the game and maybe even give a hint about all the new content and improvements that's coming down the pipe. Have a watch below, and see for yourself where we're at as we approach the release of Season 1 next month.
What we are focusing on
Ahead of the start of our first Season, we have focused on addressing the core issues with our game. It's been essential for us to ensure that as much of the experience that we shipped with is in as best a shape as possible before we started to deliver all new content. We know that this has been a frustrating, and lengthy time getting from there to here, and while we have more to do, we're encouraged that many of you are having a better experience with the game.
Ahead of new content arriving in the game, we wanted to assure you that there are still four key focus areas for us right now:
Maps

Experiences & Modes

Core Gameplay

New Content
These encompass some pretty big areas of our game and have plenty of nuanced changes and additions built within them. In the video above, you get to hear directly from Ryan and Lars on where we are today with our work, but if you're looking for a recap, here's a breakdown of what you can expect to see updated and changed in the game over the next several months.
Maps
In this focus area, we're not just looking at the new maps that we're planning to bring throughout our upcoming Seasons, but also the improvements that we want to bring to our existing playspaces.
We know that our maps play best when the space is being well utilized, and when you feel that you have a good understanding of not only where to go next in our maps, but also the safest ways to traverse that distance. We've seen from your feedback that you are enjoying our maps in 128 players on Conquest, but that when it comes to other experiences, we shouldn't stick so rigidly to those rules. When the first of our new maps arrives in Season 1, we hope you'll feel that these changes help to create a more fun and tactical experience, and we're looking forward to you experiencing these changes for yourself next month.
We're also looking to ensure that where we need to, we're able to bring some of our launch maps up to our revised standard of quality, focusing first on the reintroduction of Kaleidoscope. As shared in our Core Feedback loop last month, we've revised the playspace to add more cover, creating new flag positions, and improved the flow across the whole map.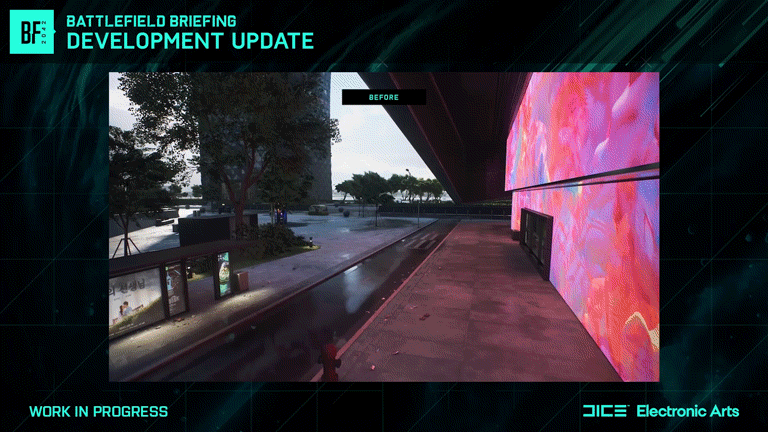 Cover has been added not only with the placement of new assets, but also in the raising of terrain to help break sightlines and let infantry move more purposefully around the map. Most importantly, these new assets bring more tactical destruction which help to ensure that the map evolves throughout the duration of each round, and provide both Attackers and Defenders with new options when playing in key areas.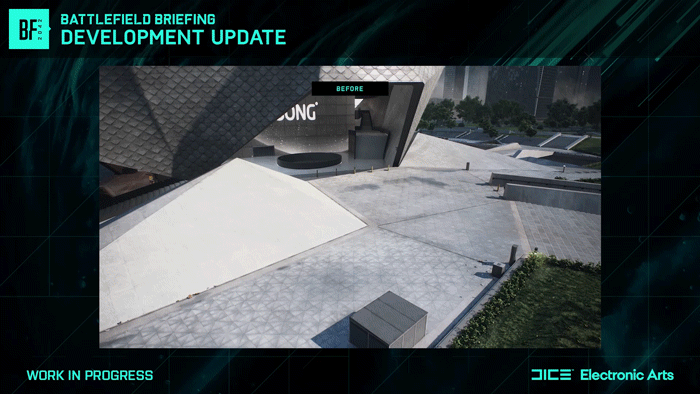 We've also introduced new areas onto the map, adding a Forward Operating Base into the park, with a second command post added close to the Tower. The Data Center has similarly received multiple passes from the teams to help ensure that there are more cover points, and new war torn looks to certain areas that help make the map more faithful to 2042's setting.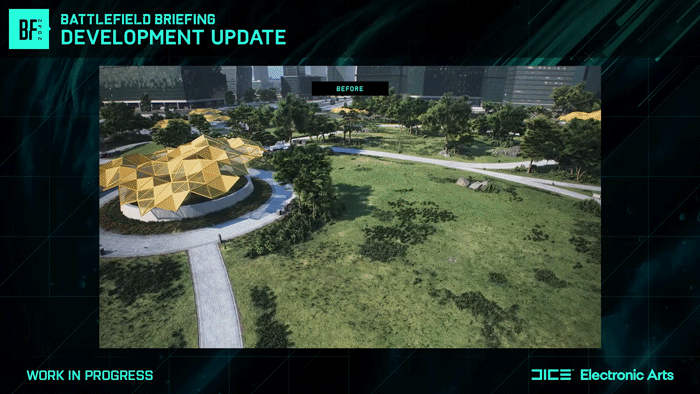 Our work on Renewal is also progressing well, adhering to these same quality improvements. Now scheduled to release some time after Season 1, the changes will help improve much of the infantry experience on the map, helping to eliminate playspaces that stretched the gameplay into quieter spaces (removing sectors A and E from the map), and focusing the action through the map's center.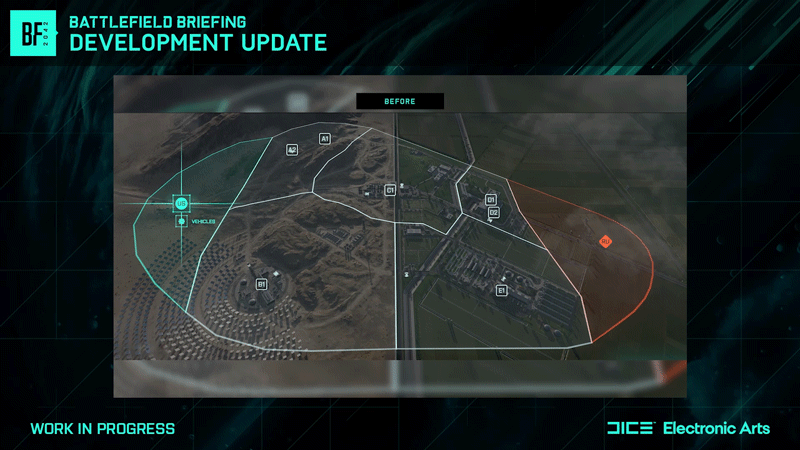 The Solar Station has been revised to include much more cover, new concrete barriers, sandbags, and assets that help to give the space a more occupied and entrenched feeling. The terrain connecting from here to the Security Checkpoint in the center of the map has been raised and modified to provide better cover for players, with a simplification of the layout taking place at the substation to help eliminate the numerous possible angles of attack.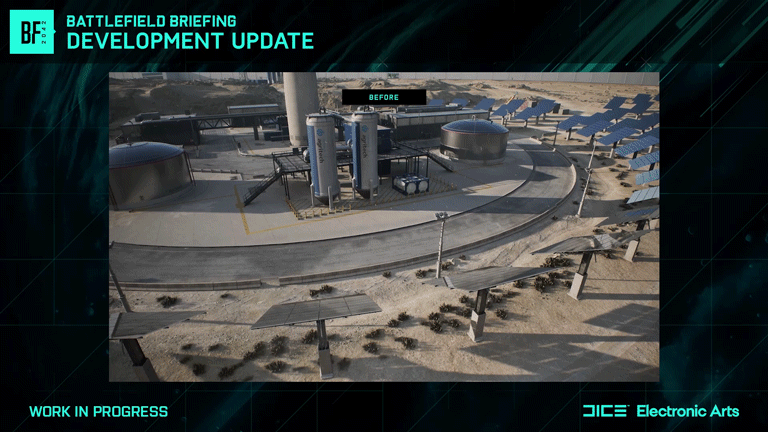 Connecting the Security Checkpoint to the Synseco Buildings, there's now plenty of cover helping to link the playspaces, with the Synseco Buildings themselves featuring more internal points of cover that help to improve our standards of Close Quarters Combat.
Experiences and Modes
Connecting to the improvements that we're making to our playspaces, we've spent our time over these last few months reviewing the experiences we provide with our game modes and challenged ourselves to ensure that we're improving the quality of gameplay here too. Here we have two big focuses - the variety and depth of what you play, and the available options of what you can play.
As you've now experienced in our recent 0.4.1 Update - we have unshackled ourselves from 128 Player Game Modes when it comes to how we develop new modes in our game, and also in the play spaces we use in our maps.
128 Players won't be going anywhere, we know it's great for some of our experiences. For players on Xbox Series X|S, PlayStation 5, and PC, we'll continue to optimize our Conquest experiences around large player counts, but as we've done recently with Breakthrough, we've made the decision to keep this mode as a more tactical experience, better suited to 64 players.
Conquest experiences will at times feature less Sectors and Capture points as we introduce new content, and update some of our existing content. This is a change that helps us to better control the flow and pacing of combat, making sure that you're spending more time engaging on the flags, and less time checking your phone while you wait for the capture to confirm.
In Breakthrough, the decision that moves us to 64 players universally, helps us to build more focused frontlines for the engagement, and the reduction in player count ensures that squads which look to work more tactically find more opportunities, and less chaotic resistance in the flanks.
We're also looking to expand and bring our official modes together to include Rush, our 32 Player focused experience during Season 1. We'll have more to share about that when we reveal the Season next month, but we wanted to let you know to expect this expansion to All-Out Warfare, alongside core improvements to the Rush experience following its initial outings via Battlefield Portal. Speaking of which, starting in Season 1, you'll see more of our existing Battlefield Portal maps joining the rotations in All-Out Warfare to help bring more variety to our Core Modes.
One final piece of news for you to take away from today's video - we're winding down future development on Hazard Zone. All of us on the team had great ambition and high hopes for this new Battlefield experience throughout our development, but we're the first to hold our hands up and acknowledge that it hasn't found the right home in Battlefield 2042 and that we'll benefit greatly from letting our focus and energy stay on the modes we see you engaging most with.
Hazard Zone will stay as part of the experience, we're not switching it off, but beyond addressing critical errors and odd behaviors that may appear in the future, we're no longer actively developing new experiences or content for the mode, and you'll find that maps that we release across our seasons will not be supported in Hazard Zone.
Core Gameplay
Let's talk about Specialists. We know this is one of the main topics discussed across Battlefield Communities, and it's an important priority for us too.
In terms of what you can expect to see on this topic, we are actively working to update the style and tone that our Specialists bring to the experience. We've started art passes on our Specialists that help to better reflect what we feel their place to be in the world, making them feel grittier, and closer to the more serious tone that we want to come across in our narrative.
We're also in the process of updating the voice lines that you hear from the Specialists, removing ones that we know break your immersion and connection to our characters, and will ensure that cosmetic options you'll encounter in the future provide you with more grounded and more military-themed content.
On the gameplay side of Specialists, we're still exploring bigger changes to their design and don't want to commit into temporary decisions while this work is still ongoing. We are continuing to make regular balance changes, such as the recent nerf to Boris' turret in 0.4.1, and the light overhaul made to Rao's passive behavior in 0.4.0 just last month. We will continue to help ensure the experience you have with the Specialists is well balanced and able to provide good variety to the gameplay, but we don't want to rush into any new directions until we're 100% satisfied that what we do next is the right thing to do.
How Specialists fit into the game today can be improved. We're sensitive to, and grateful for the feedback that we have received so far from all of you, but we recognise that making a sweeping change to Specialists would cause significant delays to our development, more so than we already have in our work to improve the experience ahead of the start of our Seasons. We do intent to make changes, but want to ensure they do not impact the other improvements, fixes and content that we're bringing to the game.
There are initial ideas that we have, and when we're on sturdier ground with the vision we have for the Core Gameplay of Specialists, we will come to you to share those ideas and solicit that feedback. The Core Feedback Loop for Specialists will come later than planned, but we invite you to continue sharing your thoughts around improvements that we can make here. We're not walking away from Specialists, they're a key part of the Battlefield 2042 experience, and we just want to make sure that we get this right.
Elsewhere in Core Gameplay improvements, we're looking to bring new 3rd person animation modeling to the game, giving much better readability to body motion and helping you to better react to enemy movement.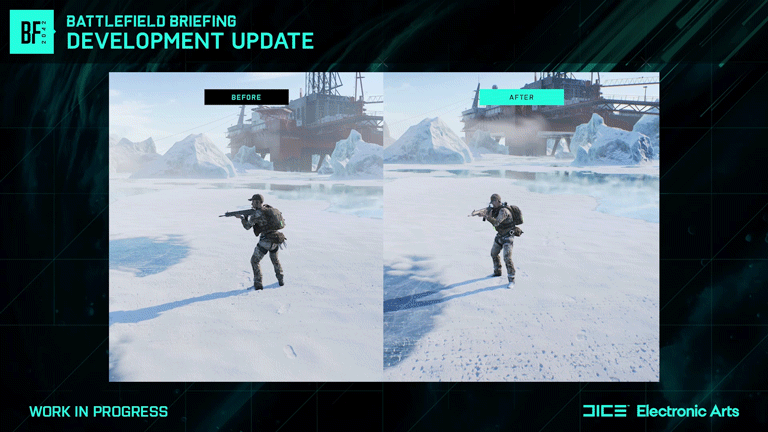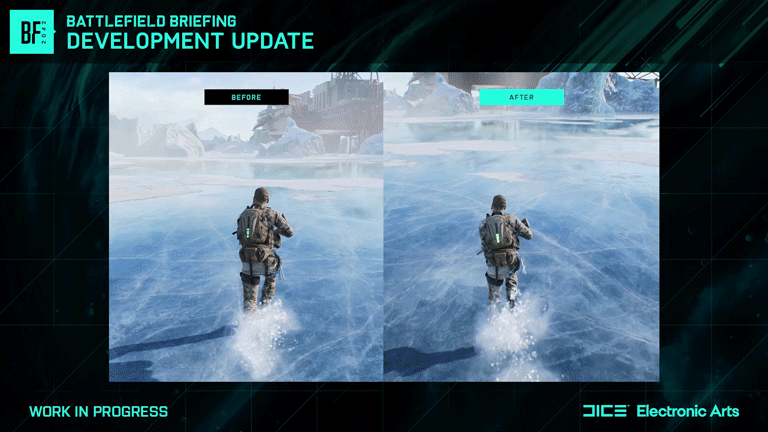 With Gunplay, you've already seen us bring improvements to our Weapon Attachments in Update 0.4.0. We're going to continue balancing our weapons to ensure that they each have a unique application within the sandbox, and we're working on changes to Visual Recoil to help improve the experience of firing our weapons.
Beyond this, we have new weapons and gadgets coming with each Season, and we've started work on a new initiative that will see us further add to our pool of Weapons and Gadgets, by introducing some of our Classic eral arsenal into the All-Out Warfare experiences. This isn't a simple or fast change, it'll take us some time to do. We need to ensure that these weapons are mapped properly to progression, that they're appropriately balanced to the 2042 model of gunplay, and that they're supported with appropriate mastery and cosmetics, but we've started work on this and we'll have more to share further down the road.
On the Teamplay and Social side of our Core Gameplay loops, we're making UI improvements during Season 1 that help enable better readability across our systems that let you understand where your friends are playing, finding new modes to play, and understanding what to expect when you jump in.
And finally on Performance, we're continuing to ensure that the game is living up to your expectations of a technically sound experience that performs at the framerates you expect from your hardware. We took a big step towards addressing that with our Minimum Spec players in our 0.4.0 update, and there were positive knock on effects across the board that helped to see many players gain better CPU utilization, improved latency on input, and a smoother experience with less hitching than seen at launch.
This is work that we continue to iterate on, and work to find new improvements for, with more for us to do throughout Season 1.
New Content
Season 1 will launch next month, and will mark the start of a year of new content coming to the game. Four Seasons, four New Specialists, new maps, and new weapons and gadgets that help to expand the sandbox. We're bringing a Battle Pass to Battlefield for the first time that will give players the chance to earn new gameplay items, all of which are on our free tiers, and new cosmetic items across both the free and premium tiers.
Next month with the release of Season 1 we'll see a big update that will not only bring this new content to the game, but also deliver new Quality of Life enhancements, fixes, and improvements that demonstrate our continued commitment to Battlefield 2042 and our mission of restoring the trust that many of you feel was hurt when we launched back in November of last year.
All of us on the team are thankful by your feedback following the release of 0.4.0 update, which allowed us to make swift changes via a Hotfix the following day to address stuttering issues, and incorrect Ticket Counts for our Breakthrough 64P layouts. We are pleased that we now have the opportunity to show you even more of our hard work with the start of Season 1. Internally we've enjoyed playing its content for longer than we planned to, but we're keen to maintain the right cadence of our updates from here, both for new content, and game improvements.
---
To see more of the changes, check out the video linked at the top of this article if you haven't already and stay tuned to us here on the Battlefield Website, our Social Channels, and the Battlefield Discord.
Next month we'll publish our complete Season 1 Update Notes, and return with a new video where I'll be joined by members of the Battlefield development team to talk about Season 1, and to look ahead to more of the changes that we're making to the game.
Until then, thank you for giving us the time to play the objective <3
Freeman // @PartWelsh
Community Lead, Battlefield
This announcement may change as we listen to community feedback and continue developing and evolving our Live Service & Content. We will always strive to keep our community as informed as possible.
---
If you'd like to join the discussion on this update, please go here.
---