Reply
Topic Options
Mark Topic as New

Mark Topic as Read

Float this Topic for Current User

Bookmark

Subscribe
Original Post
Highlighted
NBA Live Mobile Season 3 Update
[ Edited ]
Options
Mark as New

Bookmark

Subscribe

Email to a Friend
September 2018 - last edited September 2018 by
EA_Barry
NBA LIVE Mobile returns for Season 3 with a brand-new way to progress and engage, refinements to gameplay, and more!
This year, in NBA LIVE Mobile, the event structure and layout has been simplified with the introduction of Campaigns. These hubs will serve as your home for what used to be programs. Our first campaign this year is the Rookies Campaign, which celebrates the fantastic rookie class coming in the NBA this season, as well as great rookies of the past!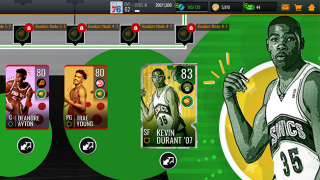 Instead of navigating between a map and sets in order to progress and earn rewards from playing Programs, the new Campaign hub places everything at your fingertips, including available events, available rewards, and upgrade paths. Now, everything you need to obtain new Player Items through engagement is clear and concise. Traditional sets and interactive elements still exist, but you'll no longer have to go searching and referring back in order to progress.
In addition to Campaigns, we will still have a traditional Live Event map, though this year that map is now called NBA Today. This will be the place you come every day to play through quick, fun events for rewards and progress.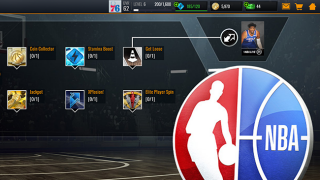 We've also made a ton of refinements to gameplay that will give the game feel more depth while also remaining fun and accessible.
First, we added player archetypes for most Gold Player Items and above. These player archetypes and their icons will help you easily identify the strengths of players on both teams.
At launch, the following archetypes will be included:
Playmaker
Sharpshooter
Slasher
Lockdown Defender
Stretch Big
Rim Protector
Playing to your team's strengths and making sure to pay attention to your team archetypes and composition allows you to tailor your team's strengths to your preferred playstyle, or you might have to alter your playstyle to fit a new addition to your team. Sure, you might want to be the Warriors, but if you don't have 4 Sharpshooters, it might be better to slow things down or attack the rim with your Slashers.
We've also made some changes to coaches, and we've streamlined the strategies and boosts they offer. Now, your coach can either be Shooting, Defensive, or Balanced and will still have chemistry boosts to players that match their coach style.
In addition to the way you strategize your team-building, this season of NBA LIVE Mobile also introduces new refinements to the on-court experience. You will need to prioritize taking smart shots that your players are capable of hitting, and in order to help you do so, we've also introduced a new "Shot Locator" UI element.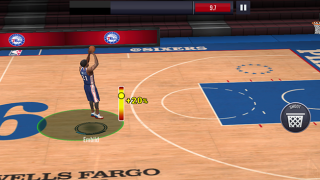 Now, as your player moves around the court, a meter below their feet will fill and empty. When this meter is completely full, that player is in an optimal shooting location and will have the best chance to hit a shot. When the meter is less full or empty, the shot is considered incredibly difficult and may result in penalties to percentages due to being closely guarded or the shooter being a poor shooter.
Finally, we received a lot of feedback over last season of NBA LIVE Mobile and have made adjustments to the training system. Now, instead of being able to train any Player Item 5 levels, most Player Items will not be trainable. Instead, certain Campaigns will feature Player Items that can be trained via Campaign-specific tokens. This will help make Masters feel more impactful and will reward players who engage in Campaigns. One of the first ones available to you will be Mobile Master Joel Embiid.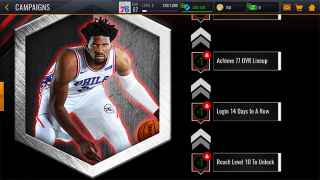 We are extremely excited for the release of this season of NBA LIVE Mobile! This year's game is going to bring you the best on-court action, combined with a much more engaging way of participating and progressing your Ultimate Team.
Source: https://www.ea.com/games/nba-live/nba-live-mobile/news/nba-live-mobile-season-3-update